The most popular DIY products for customers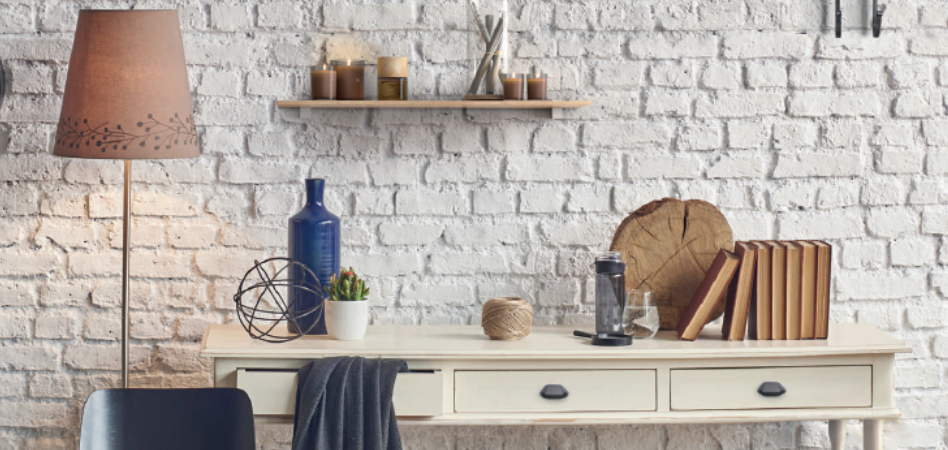 When a certain product or products is/are in greater demand among customers, it is obviously because this type of product is on trend. Trends are not exclusive to the textile sector, or to travel agency destinations.
Do-it-yourself shops are not a sealed compartment that sits on the fringes of trends either, far from it. What's more, DIY shops create trends and back the most popular styles by bringing the products that customers expect to find to their shelves, as well as some others that go even further.
Nowadays, industrial design has become overwhelmingly dominant in interior decoration styles. Nowadays?
The industrial style never disappeared. Since it was first used by artists who, in the late 1950s, began to restore old factories and industrial buildings from the late 19th and early 20th centuries, turning them into housing, the trend has been unstoppable.
The industrial style has experienced golden ages such as the present day, or the 80s and 90s. On the one hand, this was due to the unquestionable support of the rebellious spirit of post-punk Britain, that conquered spaces such as warehouses and older buildings in the industrial belt of the British city of Manchester. On the other hand, it was connected to the style promoted by so many American series which showed those lofts that were so sought-after; open spaces that contained a house as well as a restaurant or an architecture studio.
It is true that there have also been dips in its popularity, but the trend has always continued in an upward direction. And the DIY shops have been on the front lines, playing their part.
And the manufacturers of decorative hardware have been filling the shelves of commercial spaces, where the industrial style first appeared decades ago and never left. The name may have changed, some now refer to it as "urban style", perhaps to differentiate it, but in the end, the tones, materials and designs, in short, its essence, remains the same: functionality and industrial looks in a range of blacks, browns, and greys, for products made of wood or metals such as steel.
That's right, nowadays it's peaking. There is a growing demand for all the kinds of DIY accessories that go with an industrial aesthetic. And we are immersed in this trend, seduced by it in a decorative game that, just like Leonardo's screw, seems to have no end. So, what DIY products are most in demand for customers?
To answer this question, and to do so in a manner that is accurate at this moment in time, there are two factors that must be considered: cause and effect. However, it is not exactly easy to decide which is which, more so because they seem to be interchangeable than for any other reason. This is the rise of "do it yourself" and DIY products, as well as those related to the pandemic and corresponding containment and quarantine, which can be more, or less, severe.
The pandemic is a purely circumstantial factor and it must be treated as such, but it cannot be ignored when discussing trends and demand from the public. And in this context, we are in a position to answer the following question:
What are the most popular products for customers?
Watch out for the subtle differences:
Industrial metal brackets.
Industrial table legs.
Manufacturers of wooden furniture legs.
Cheap industrial style furniture.
Industrial wardrobes.
Industrial clothes hangers.
Industrial style wardrobes.
Vintage industrial style furniture.
Industrial legs.
Industrial style shelves.
Industrial clothes rails.
Industrial furniture.
Why have we insisted on focusing on the differences?
Because, until now, it was very clear that the industrial style was a trend, but the objects that are most in demand are those that determine the direction of that trend. An industrial wardrobe is not the same as an industrial style wardrobe or vintage industrial style furniture.
No, it isn't quite the same, is it?
The difference is subtle when looking for the nomenclature to best define the items. This is essential when considering the manufacture of one or more lines of decorative fittings. For example, one line will undoubtedly be for the manufacture of industrial wardrobes, from the first stage of manufacture to the last, controlling the production process from start to finish.
Another line can be developed in pursuit of the concept of "industrial style wardrobes", where things change because the modification factor comes into play. Customers can have a wardrobe available, and then look for industrial style fittings that transform it into a completely different piece of furniture, such as stainless steel fittings in different colours.
And, in addition, in an even more subtle way, there will be customers, and believe me there are a lot of them, who want a transformation that comes complete with a double pirouette, meaning that they want to turn a piece of furniture, whatever it may be, into another piece of furniture in an industrial style. They also want the vintage touch that is breaking into sales in all sectors, so they want a piece of furniture in an industrial vintage style. And, once again, decorative fittings play an absolutely central role that will be the final touch that brings the style together. To give you a clue, rusty metals are looking forward to joining the party.