New trends in kitchen handles manufacturing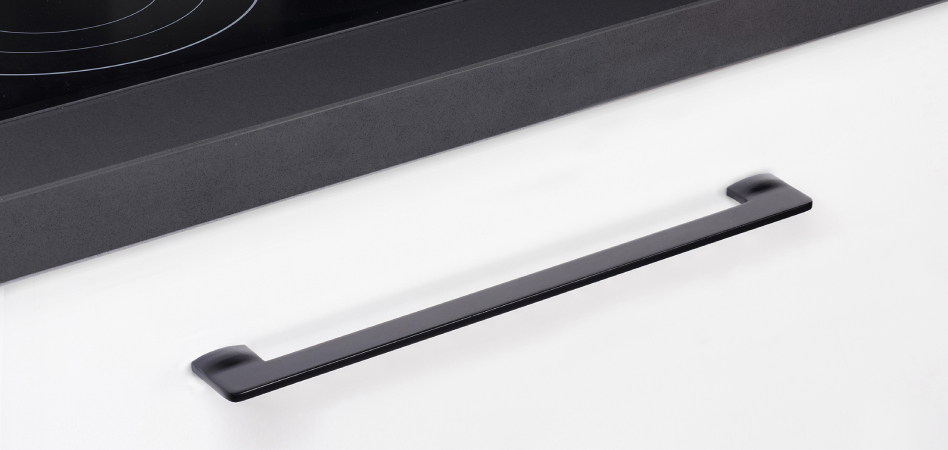 Greatness is seen in the small details.
There is probably no better phrase that defines the mission of kitchen furniture handles in a realistic way. If you're one of those people who needs to see to believe, don't miss this article. We are going to show you the potential that small details have to give the greatness that customers are looking for in their kitchens, and you will be the one to guide them there.
Handles and kitchen furniture live a story of complicity and complementarity since the first designs began to roll through the offices of the pioneers in interior decoration. And because time has passed that story has gone on and on. Today, it could be said that they form a sort of perfect couple in which each has managed to find their own ground and both recognize, by mutual agreement, that famous refrain that says: ""without you I am nothing"".
Of course, love, on many occasions, is blind and probably that is what has happened to the kitchen furniture that has discovered the essence, the importance, the decorative weight given off by the handles. Kitchen handles, by themselves, can transform an environment, a style, an entire kitchen. And it is not the furniture that says so it is a fact that can be checked by taking a look at the latest trends in past seasons.
Is this the power of kitchen handles? It certainly is, and it is well known to decorative hardware manufacturers and their customers. Only those manufacturers that provide enough variety between classics, trends and avant-garde styles to meet the needs of the most demanding consumer, will be chosen. And what are the latest trends? Those that decorative hardware manufacturers are showing to their customers. Those that have the power to transform the atmosphere of any kitchen in its entirety, with a touch of texture, color or design, or simply by disappearing.
Yes, disappearing. Because one of the trends for this coming decade of the twentieth century is hidden kitchen handles. Integrated into any furniture, giving that touch of spaciousness, neatness and functionality that is so much in demand among the most modern and daring customers. And in the same line of neatness and simplicity, almost, zen-like, we find another seasonal proposal that is causing a commotion and spreading like wildfire, thanks to the catalogs of decorative hardware manufacturers and the most prestigious publications.
These are handles that receive the gesture of the hand when grasped as if they were part of it. They are elegant and playful handles that can be elongated as functional metal handles, or concentrated into cylinders, squares or whimsical wavy shapes, without losing any of their functionality or attractiveness. Whether in matte or with a special shine, these are small pieces that give the final touch to the doors as if they were the signatures of the author of a work of art.
And what about the classics – are they no longer in trend?
Of course they are, the classics remain year after year, season after season as references of good taste and beacons of new nuances and transformations because, make no mistake, the classics are also improved.
The latest trends offer classic kitchens renewed metal handles that achieve a decorative effect of permanence, security, stability that in no way opposes that. An example being the rest of the furniture fittings and the materials with which they are made, are the latest in innovation. The classics endure as an example of continuity and anchorage at the same time, a sober and consistent image in which the handles give the touch of grace.
An example? Shells. Those handles that you can find on a colonial-inspired piece of furniture as well as on a Victorian-style one. We insist, the classics are also revived. And speaking of tropical-inspired furniture, yes, the same ones that started to arrive a couple of decades ago and are still here. They are no longer a novelty, it is true. They have become something better, in a consolidated style that has definitely established itself as a trend that is renewed every season and, with them, the metal handles of imitation of plant fibers or wood that unleash passions among both lovers of colonial style and among the restless admirers of contrasts, another trend that deserves to be highlighted.
They can be in the shape of a suitcase handle, raffia braid or bamboo stick. They can be classic porcelain, ethnic, multicolored, or made of wood. They can have inscriptions, drawings or inlays.
Regardless of their shape and the materials they are made of, customers who are looking for their own style, their personal stamp, the innovative gourmands. Those who inhale the scent of trends to turn them into their exclusive style, know that handles become the touch that makes the difference, regardless of the furniture they are incorporated into. The result will never be the same as the one that seemed almost predictable before they were incorporated.