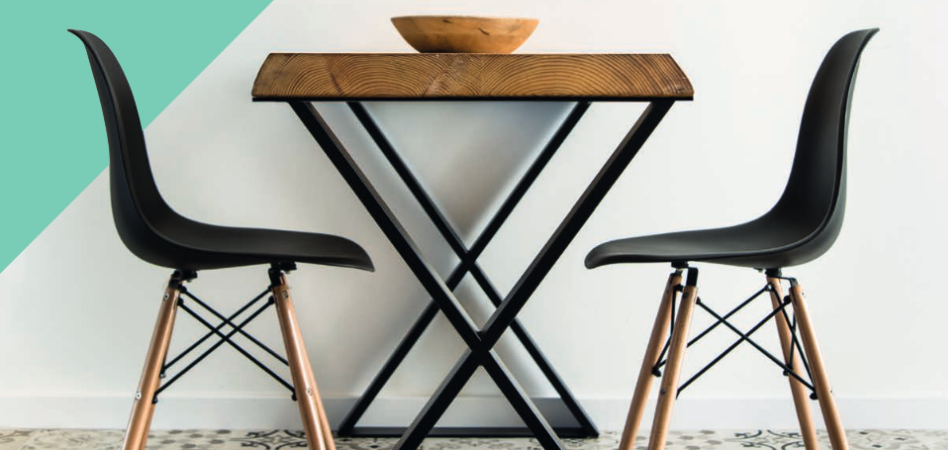 Times change, that's a fact; but whether this is a bad thing or not is a bit more debatable, and whether these changes affect everyone is another matter entirely. Perhaps it's just a matter of taste?
We're talking about decoration, of course. So what has changed, leading us to study the importance that table legs have acquired in interior or exterior design? Simply put, the evidence. We would not dare to say that it is a scientific matter, but almost, so we therefore need arguments.
Furniture has always played a decisive role in creating the decorative style of a specific space, and this is still the case, so we already have a general argument for the importance of table legs, as we mentioned earlier. So next we have the second argument and, for this, we will focus our attention on tables, but while also narrowing down the term "table" and defining the concept because, if one thing is evident, it is that tables are no longer just what they used to be, far from it. Season after season, tables have become more and more important, becoming an auxiliary or decorative piece of furniture, just something whimsical or a means of creating an aesthetic contrast. The versatility of this simple four-legged practical piece of furniture has skyrocketed, and there are now no limits.
Let's take a look, for example, at the range of industrial legs offered by REI and drink from the fountain of experience and, why not say it, of quality and avant-garde design. Let's take a few minutes, or for whoever needs it, an hour or whatever it takes.
REI has revealed the mystery of the table as a historical piece of furniture with a specific use and complex and often overly elaborate shapes, in keeping with the spirit of times gone by. REI has stripped away the years and years of servitude and liberated the legs by giving them a role of their own in which to showcase their qualities, beauty and functionality.
And for our third scientific argument, we have isolated the object of study, the table legs, so that they can contribute their own essence in terms of design criteria, practical spirit and aesthetic style, as extraordinary as they are surprising. And now for the fourth: the results.
Because we have taken the basic object, stripped of accessories, the table legs, and we have isolated it to observe its potential and qualities and, finally, after the necessary time, we will check the results of applying our scientific criteria.
What do we find when we mentally step through the door of our experimentation room? An article that, due to pure ignorance, seems new to us, and an element as complicit as it is unexpected. In short, an ally capable of transforming an ordinary table into a fully personalised, truly desirable object with an industrial aesthetic. Yes, it is quite a discovery.
While it is true that the surface of the table can be made from the most varied, unexpected, novel, avant-garde and whimsical materials, it is also true that, from the new perspective acquired from all the possibilities provided by the table legs, none of these surfaces will reveal all its brightness, all its distinction, all its uniqueness, until the table finds the legs that highlight, complement and define it, without stealing the limelight but making it clear that this limelight is split, at least fifty-fifty.
And this is the first change that we must take into account when we think about table legs in the second decade of the 21st century, their prominence and the fact that they no longer steal the show, thank goodness, as a point of comparison, cast your mind back to those table legs that were so prominent in those old mahogany dining rooms, for example.
The table legs that have arrived, and that will not leave because they have won us over, so we will not allow them to, are companions, not protagonists, and they demand the same treatment from the surfaces that they support, only then will the love story or camaraderie between the two come to fruition.
The compositions are free, the materials and the combinations of forms, countless, there is only one clear requirement, the triad of aesthetics, functionality and daring, which can be distributed at will. The compositions of which we speak, have one of the qualities that are most valued in decoration and design; they are not exclusive, they collect and reinvent, recreate and compose a new piece of furniture with classic styles that, of course, add that special and unique touch to the newly designed, created or manufactured piece.
The legs are industrial in style, rectangular, square, cross, bridge or trapezoid shaped, and all with non-slip bases. Design and practicality working together, no longer mutually exclusive.
They are unique legs with clean and striking designs and are capable of supporting glass, wood or marble surfaces, transforming some elements, which already had promise separately, into an exclusive and personalised piece that says something about its owner, a piece that may not be found in any catalogue, but will be the focus of many an amazed gaze, an entirely unique piece.